The "wrapping station" – a place for you to wrap your presents with paper and ribbon neatly organized – is as ubiquitous in the blogosphere as board and batten and paint chip projects. And I've lusted after them, sure! Especially at this time of year, when I have to face the fact that my rolls of wrapping paper are usually shoved haphazardly in the corner of the office closet, with the ribbons and gift bags floating around somewhere in the shelves, and tape and scissors stored in
an entirely different room
.
I got the situation slightly under control earlier this year when I worked on cleaning out that closet – you can see the many discarded rolls of wrapping paper and gift bags in
this post
. As part of that purge, I collected all the gift bags, tissue paper, and boxes that I wanted to save and stored them in a single re-usable bag:
So that's half the battle right there! But the ribbon and wrapping paper still drifted around the closet, never to be found when I really needed it (approximately five minutes before time to leave for a Christmas party, usually).
To combat that problem, I've fantasized about building an amazing storage solution like
Kate at Centsational Girl
:
Or even just dedicating part of the closet space or nearby desk to wrapping supplies, as Sherry did in the old YHL house: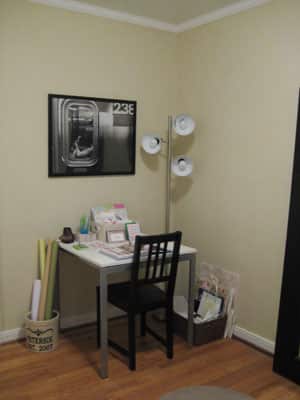 But it wasn't until I saw
Mrs. Limestone's fantastically simple solution
(pictured below) that I was finally motivated to act:
What makes that so brilliant? Well, first of all, this is what the back of
my
office door looked like – an old (and very disorganized) over-the-door shelf unit, but actually not unlike what Mrs. Limestone ultimately constructed for herself.
And second of all? These guys:
This is
genius
, you guys. Mrs. Limestone demonstrates how she used curtain clips to hang the wrapping paper from towel/curtain rods installed on the back of a door. I figured I could just attach the curtain clips to my existing unit and store the paper there!
First, I removed the large ring from the clip. It took a tiny bit of coaxing with pliers, but wasn't difficult at all.
Then I slipped the hook attached to the curtain clip onto the door unit, and clipped on the wrapping paper:
I cannot get over how ingenious this is (even with the wonky lighting - it's super hard to take nice photos in the dark office). Because the clips are designed to hold heavy curtains, the paper is gripped tightly and won't fall off. Plus, the clip holds the paper on the roll, so you don't have to mess with rubber bands! I love this. LOVE IT.
To make my poor man's wrapping station complete, I dug around the closet to find my ribbon and stored it above the wrapping paper:
Wait, something else is missing. Oh, there we go!
It's not the fancy wrapping station you may see elsewhere in the blogosphere, perhaps. But this simple trick has me so pleased! For the first time ever, I don't have rolls of wrapping paper floating around in the corner of my closet! Hope you can also use Mrs. Limestone's solution to make your gift-wrapping easier this holiday!