Happy almost Christmas, everyone! With any luck, everyone reading this is done buying presents, finished decorating, and already in their Christmas Celebration Location, or will be soon. Which means... it's time to breathe. Time for some Christmas cheer!

At this point, it's highly unlikely that you're going to the grocery store for a complicated Christmas cookie recipe. Or even an extra stick of butter. I know that and you know that. So instead of posting a last-minute sweets recipe, today we're going to celebrate in the "finally done traveling and ready to relax" way. We're going to celebrate with booze.

Last year I took the prettiest photo I've ever taken and told you about my holiday cocktail:


So very simple: equal parts cranberry ginger ale and Absolut grapefruit vodka (more ginger ale if you prefer a weaker drink, i.e. if you want more than one and would like to avoid trying to use pinecones as microphones for your solo performance of classic Christmas charts to your family's horror).
For this year's Christmas cocktail, I stuck with the cranberry ginger ale, because it is so very festive this time of year. But I switched it up: use two parts ginger ale to one part lime-infused gin (I used Seagram's) and a shot of basil simple syrup. A cranberry basil gimlet!
Garnished with basil leaves for extra fancy! At least, it helps that I don't actually own the right sort of glasses for gimlets. Who cares, it's delicious!
I've already decided what next year's cocktail will be, by the by. It's
this caramel appletini
(click the link for photo credit and directions):
Looks delish, right? Hat tip to friend M for directing me to it. I wish I had gotten to it this year, but just something to look forward to next year!
But you may not have those ingredients on hand, and we've already established that you aren't going to the grocery store today. So... you got any leftover candy canes? Tracy of Shutterbean can help you make
candy cane infused vodka
! (Linky for photo credit and directions.)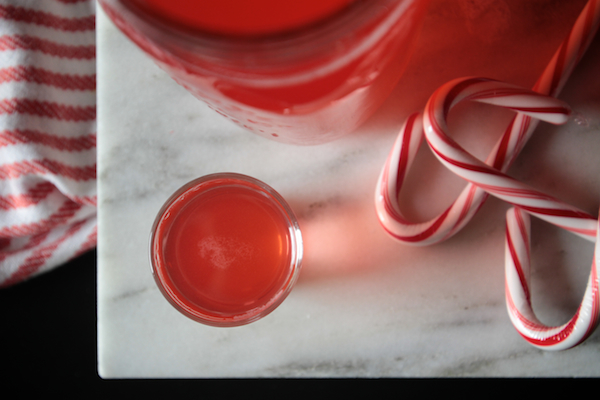 Pro tip: another friend of mine who made this recently adds a splash of vanilla extract. Mmmm. Makes great gifts! I'm filing that away for next year.
But if that's still too much effort at this last minute, just grab yourself some Bailey's and pour that right into your hot chocolate.
And honestly, the simplest Christmas cocktail is perhaps the best.
Kick back and relax, dear readers! Christmas is almost here! Merry, merry Christmas Eve!