A few weeks ago, I was reading The Lettered Cottage and saw that Layla got a new desk chair, the Hayden dining chair from World Market: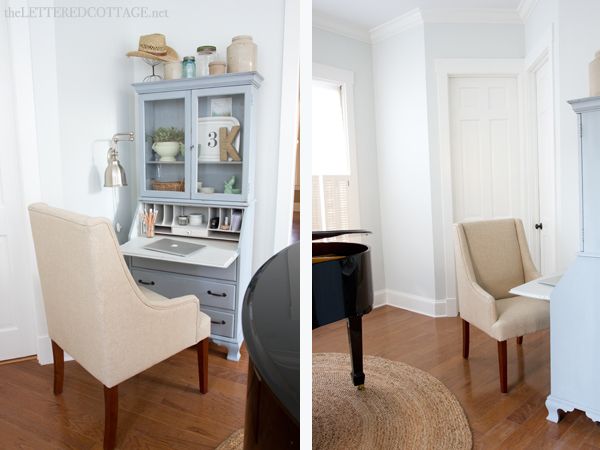 photo source
... with which I immediately FELL IN LOVE. I mean, I generally fall in love with most of Layla's home, but this chair
especially
. Can you blame me?
See, I've been wanting a bit more seating in our living room. True, we have a ginormous sectional, but it's a little awkward to cram six people into one L-shape. Conversation zone, that is not. So I'd always been planning to add a leggy chair or two – see, there was even one on the original living room inspiration board:
That blue chair is
from Target
, and I was never
completely
in love with it. It didn't help that its $230 price tag didn't feel particularly like a deal – even on sale, $165 was a bit high for something I didn't love.
The Hayden, on the other hand? After Layla tipped off
the source
, I discovered that the chair was marked down to $150. After a scouting visit in-store (where the display dates on the price tag clued me in that the sale price would run through February 3 – always make a scouting visit!), I decided to return and snag two Haydens for our living room.
So last weekend, before the sickness overcame me, Mr. P and I headed to World Market to pick up my dream chairs. And in a sign that it was
totally meant to be
, I got them for
under
$150 apiece
including tax
, because of an additional 10% off deal I picked up! Considering that most other chairs I liked were well over $300 apiece (see
here
and
here
), picking up two for
under
that price made me absolutely giddy.
Then we hauled them home in the back of Mr. P's car just like this:
We couldn't even fit the boxes in the car... the World Market warehouse guys cut the boxes open right there in the loading dock. I immediately thought two things: one, AHHHH WHAT IF I HATE THESE AND CANNOT RETURN THEM OH NO, and two, uh... dude, where are their legs?
Loading dock guys assured me they were in a "zippered pouch in the bottom". Uh... huh?
Oh! True that!
Sure enough, all the legs and hardware I needed were, in fact, zippered into the bottom of the chair. The zippered part also gave me access to the place to actually attach the legs with the supplied allen wrench:
All in all, attaching the legs was fairly easy, and they do feel secure. One tip from the instructions: the guide said to attach the legs
without
tightening the screws, then stand the chair up and tighten them from underneath. This allows the legs to be level when you're securing them. Smart!
Around the time I was tightening the screws while leveling the legs on the hardwood floor, Mr. P asked if he could help. "Only if you want to take photos of me looking ridiculous for the blog."
"Do you want me to take photos of you looking ridiculous?"
"I dunno, do people like that?"
"Of course they do."
Because I love you guys.
Enough of that. Let's see the pretty finished product!
Love. THEM!
Even though their legginess might give them away as dining chairs, I think they look like they belong in the living room, too. They're the perfect airy balance to the large sectional. Remember, I love our sectional and it's perfect for us, but it's more "comfortable" than "polished". These chairs add a bit of tailored sophistication, but not
too
much, so the sofa doesn't look frumpy in comparison.
Not only do I love them where they are right now, I also love them for their potential in the future – at the heads of a dining table, as desk chairs, tucked in a reading nook (they're comfy enough!). Because they've got classic lines in a neutral fabric, I can see them working in all sorts of future rooms!
Speaking of the fabric...
Oh goodness gracious. I could just rub my face into it all day long. Again, our microfiber sofa is
absolutely perfect
for us, but I adore having a bit of fancy schmancy linen furniture, too.
As for the color? Well, yes, I've just added yet another neutral into a sea of neutrals. But... it works. I promise. Part of the reason it works is the texture difference, which can be almost as contrast-y as a different color, honestly. But also, I had a vision that involved a few cloth napkins...
But that's a story for another day! For now... did I mention I LOVE THESE CHAIRS? Go, score a few Haydens for yourself before the sale expires next week!