If you've been here for any length of time, you're surely aware of my love of floor-length white curtains.


Need I go on?
I keep wondering if I'll ever stop loving long white curtains. Hmm. Well, at least I know, as
this experiment
demonstrated: not yet.
And yet. I'll admit that lately, I've been craving a bit more pattern in our home. But I wasn't ready to give up my white curtains. Fortunately, thanks to
this post
from Jenny at Little Green Notebook, I realized I could have pattern
and
my beloved white curtains. The answer? Pelmet boxes! Or cornice boards, if you call them what I always called them. Either way, they're those boxes at the tops of windows.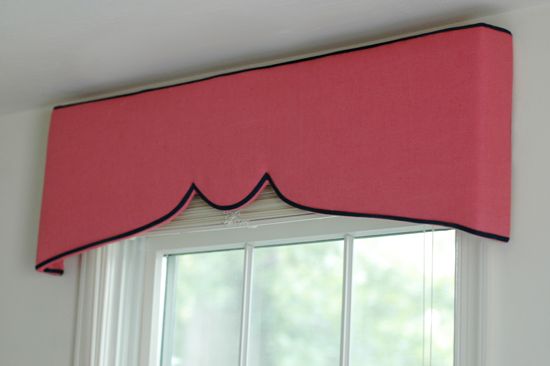 source
Jenny even linked up to
a whole bunch of reader's projects
, some of which are amazing. There was enough inspiration there to convince me that our master bedroom windows
neeeeeeeded
pelmets. The best part? Jenny's tutorial doesn't use heavy plywood, but rather super-light
foam core board
, held together with... wait for it...
duct tape
. Even I'm not too afraid to hang lightweight foam-core board from our ancient plaster walls!
However, just about every tutorial I read – including Jenny's – claims that they went from raw supplies to beautiful pelmets on their walls in under a few hours. Bully for them! That is totally NOT how it went for me. Maybe they omitted the measuring, the brainstorming, the shopping for just the right fabric, the assembling wider panels of fabric, the waiting for their husband to help them hang the darn things nine feet in the air? Either way, I'm here to walk you through every little detail of our pelmet box construction! Because while they did take me a surprisingly long amount of time, they were well worth the effort. I'm so excited to tell you about them!
As a reminder, here are the master bedroom windows in question:
Plus a little dormer window off to the side that I apparently never photographed. Here's a lo-res screenshot from the
apartment tour video
:
Okay! So first up: measuring those windows. Lots and lots of measuring. Followed by lots of sketching.
(As snapped with my iPod so I could refer to it while out shopping. Look at me, becoming all modern and tech-savvy!)
I didn't end up using those exact dimensions in the final product, but it gives you an idea of shape and scale. For starters, I stuck with simple rectangles instead of a scrolly design like Jenny showed. As for scale, those windows don't look that big, but believe it or not, the outer edges of the curtains on each window are nearly four feet apart – which, of course, means two four-feet-wide pelmet boxes. As for the dormer window, it was over three feet wide. Those are pretty wide pelmet boxes!
In order to keep them appropriately proportioned, I decided that these super-wide pelmet boxes should also be fairly tall. I worried that they would just be super-skinny strips of fabric, way up in the air, if not on the tall side. So, I planned for them to be 17" tall, and ultimately, I went with 20". Final dimensions were 48.5" x 20" x 5.5" for the large windows, and 39" x 13" for the dormer window. They sure don't look that giant in the finished product, so I'm glad I went big.
Once I had an idea of the scale, I purchased six pieces of 20x30" foam core board (on sale 2 for 1 at Michael's – under ten bucks total!). Then I took to the computer and started figuring out exactly how to cut the pieces to construct these things. I sketched out the pieces I needed in Illustrator, but you can do the exact same thing in Powerpoint. I defined the rectangle sizes as inches divided by ten (so a 49x20" piece = 4.9" wide and 2" tall rectangle), and color-coded the pieces I needed as blue and the existing foam-core board pieces as yellow:
I made the color fill semi-transparent so I could drag the pieces around and figure out exactly where to cut the foam-core board. Oh, and while I have two small side pieces for the dormer window in this mock-up, I ultimately realized I didn't need them. But I know they would have fit, thanks to this virtual sketch!
You may think that's overkill, but hey, what about the old saying, "Make virtual scale mockups twice, cut once"?
Anyway. Once I knew how to cut my pieces, I set to it:
Yup, same technique as I used in making the
custom desk drawer dividers
. Because I
learned
the technique making these pelmets (the dividers were made with the leftovers)! As you can see by the torn bit above, I realized scissors are totes not appropriate. Go with the x-acto knife + cutting board!
After cutting my pieces, I started assembling with duct tape:
I was surprised by how sturdy they could be with duct tape. The right-angled corners actually
stayed
at right angles with the tape applied properly, and I didn't feel like the middle seam needed extra stabilization. Score one very surprised point for duct tape! Hmm, I should use it for my projects more.
Again, it's worth noting that I didn't put those right-angled side "wing" pieces on all of them. The dormer window pelmet had zero wings, another had one wing because the other side would abut a wall, and the third had two wings since it wouldn't be against any other walls. Design what's appropriate for your walls!
Once I had my pelmets constructed – HOURS LATER – it was time to start upholstering them! And since I'm all in favor of realistic timelines for these projects, I'll tell you about that tomorrow! Stay tuned – I'm still thrilled to share this project with you!